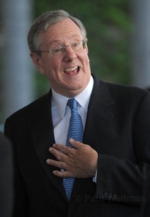 The Hera Research Newsletter is pleased to present an incredibly powerful interview with Steve Forbes, Chairman and Editor-in-Chief of Forbes Media. The company's flagship publication, FORBES, is the leading business magazine. Combined with international and licensee editions, FORBES reaches more than 6 million readers worldwide. The Forbes.com website is a leading destination for senior business decision-makers and investors with more than 30 million unique visitors per month.
Hera Research Newsletter (HRN): Thank you for joining us today. With the U.S. economy struggling to recover from recession and financial crisis, what policies would you recommend?
Steve Forbes: The only way to recover is to stabilize our money, have a gold backed dollar, simplified tax code and return to a free market.
HRN: You advocate the gold standard?
Steve Forbes: If there's any better system to ensure a stable value for money, it's yet to be found. For nearly all of America's first 200 years, the dollar was linked to gold. Since we went off the gold standard, we've had more and more financial, economic and banking crises. For example, if the Federal Reserve hadn't started to print so much money ten years ago, we wouldn't have experienced the housing bust or the commodities boom or the sovereign debt crisis in Europe. Eventually, events become a persuasive teacher. (where can i purchase antabuse)